Enlist in War
Last updated August 16th, 2023
Latest Patch Notes
8/16/23
Added Dutch translation by gemberveer
Updated Polish translation
8/1/23
Updated for compatibility with patch 1.99

When a Sim dies while serving in war, a portion of Taps is played
4/28/23
Cleaned up background code. This should resolve the issue of Sims getting stuck in the war rabbithole in certain situations, and the fatal error when switching households when that happens.
3/23/23
Fixed issue that allowed players to send infants to war
Overhauled war rabbithole to allow lengthier times away from the home lot
Added settings file, see more details below
"Tell War Stories" is now recognized by the new conversation preference system
For earlier patch notes, click here.

This mod adds a new self-interaction to Sims to allow them to enlist in a war. This mod was designed with the Decades Challenge in mind to simplify the process of sending Sims to war during certain time periods, and avoid using cowplants or debug cheats to do the deed. Even if you aren't playing the challenge rules, this mod can also be used for storytelling and roleplay purposes.
How To Use
To use this feature, click the active Sim (Teen to Adult) navigate to the "Actions..." menu, where you will find an option to "Register for the Draft". A 24 hour moodlet will be added to your Sim with a countdown for when they have to ship out. You can choose this option again while the countdown is active to leave immediately. Once the countdown is up, they will leave the lot for a few days and when it's time for them to return the game will decide their fate.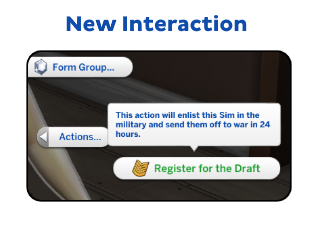 Outcomes
By default, Sims have a 50% chance to live or die. Sims who survive will be given the Veteran trait, which gives them a $600 weekly pension but may also cause negative moodlets randomly. Sims who die will keel over in front of the house, so you do have an opportunity to plead with the Reaper or let Spellcaster familiars to save them. Sims who are spared in this way will still be given the Veteran trait.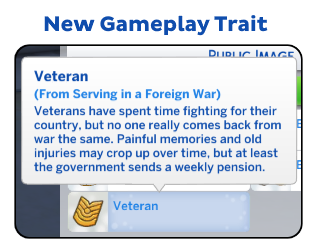 Settings File
There is a settings file for this mod that generates in the folder "Documents\Electronic Arts\The Sims 4\saves\Kuttoe" after you first play with the mod installed.
To change your settings, open the "[Kuttoe] EnlistInWar_Settings.cfg" file with Notepad or any text editor and change the number to your desired value. The numbers must be positive, or else they will revert to default.
"days_spent_at_war" controls how long your Sim will spend time off the lot after shipping out. At the default value of 3, Sims will be gone for 3 days. The minimum value is 1 day, the maximum value is 14 days.
"death_odds_multiplier" controls how likely it is for your Sim to die in the war. At the default value of 1, it's a 50% chance (1/2). At a value of 2, it's a 67% chance (2/3). At a value of 3, it's a 75% chance (3/4). And so on from there. For lower odds, at a value of 0.5, it's a 33% chance (0.5/1.5 or 1/3).
Languages
English
Spanish (thank you, HareShake!)
French (thank you, Candyman!)
German (thank you, nightlock and LittleDog1002!)
Polish (thank you, Adremi and Astercholik!)
Russian (thank you, AnnieHugss!)
Chinese (thank you, Tina and ttchubb!)
Portuguese (thank you, ju_averaldo!)
Italian (thank you, ISY!)
Czech (thank you, Celine!)
Dutch (thank you, gemberveer!)
New translations are always welcome!

Requirements
Only the base game is required to use the mod.

Special Thanks
The Sims 4 Studio team for making Sims 4 Studio
Alphabetsmells/LeRoiDeTout for making the custom death script
and the greater The Sims 4 creator community for their continuous help and support throughout the whole modding process
Discord Server
For bug reports, live troubleshooting, discussion of my mods, and general chit-chat, please join us on the Sims After Dark Discord server. It is a joint mod support server for LeRoiDeTout, Shinobu Nox, NC4T/Keke, and myself.
Supporting My Mods
This mod and all of my others are free to download and will remain so. If you'd like to support their continued development, you can donate to my Patreon. I occasionally post progress updates and exclusive access to beta versions of my newer mods.
Install instructions
Extract the files from the zip archive. Add the package file and the ts4script file to your Mods folder or a subfolder which is only one deep. For organization, it is usually better to keep the files together, but not strictly required.