Basemental Addons
Last updated: v1.11, March 19th, 2020
Working for The Sims 4 v1.61.15 / 20th Anniversary Patch
Update 3/19/20

Added weed, lean, and Adderall to the possible list of drugs delivered by the celebrity perk
Children celebrities no longer receive drugs from the perk, they will receive standard Celebruserums instead.
Added French and Russian translations from Candyman and Origamika
Update 3/11/20
Added new Inebriate Spell

Various minor bug fixes for the Sketchy lot trait
A mod for another mod! Mod-ception! I'm a big fan of Basemental's work and wanted to make my own addition to it. These little extras allow you to interact with the main Drugs mod in new ways.
Sketchy Lot Trait
Want to add some "extra flavor" to the run-down bar in your game or the lots next to it? Want an easy way to find drug dealers without relying on random chance or cheesing it with CAS? Just want Sims doing the goofy walkstyle fumbling around your lot? Then the Sketchy lot trait is perfect for you!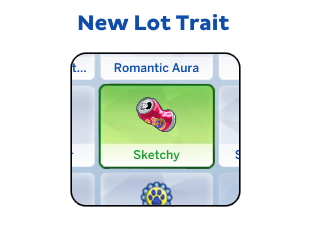 Add the Sketchy lot trait to any lot, residential or commercial. Drug dealers and drunk Sims will start showing up in the evening and will continue throughout the night into the wee hours of the morning. Drug dealers will act like normal patrons on commercial lots, and will hang around local parks near residential lots. Existing drug dealers will be summoned first, but if they are unavailable or if one does not exist, the game will generate some for you. On commercial lots, drunks will bumble around trying to buy more booze or coffee. On residential lots, most drunks will walk by like normal pedestrians but some may choose to loiter.
"Special Deliveries" Celebrity Perk
(Requires Get Famous)
Based on a suggestion from zapcracklepop, this mod turns the Celebuserum celebrity perk into "Special Deliveries" which mails random pills, powders, and goodie bags to your Sims, usually within 2 days of picking up the perk. Child celebrities will still receive Celebuserums as normal until they age up into a Teen. Note that while this mod will not remove existing Celebuserums from the game, there will be no way for teens and adults to obtain new ones during normal play while it is installed. Removing the mod will return the perk to normal.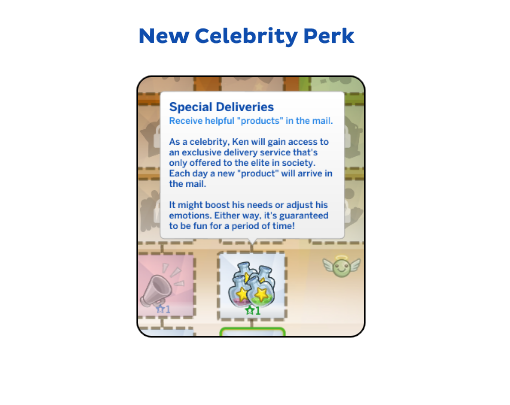 "Inebriate" Magic Spell
(Requires Realm of Magic and r3m's Spellbook Injector)
This mod adds the "Inebriate" spell to the Mischief school of magic. Spellcasters can use this spell on themselves or other Sims to immediately have them feel the effects of a full drink. If the Spellcaster is in a charged state, the effect is roughly doubled. Effects will stack if you cast this spell on the same Sim multiple times. Cast responsibly!
This mod requires the Spellbook Injector mod by r3m in order to show up in game.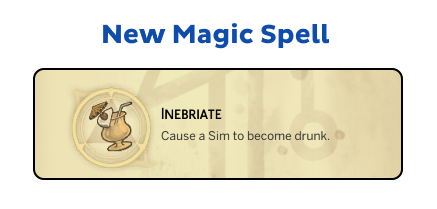 Known Issues
When using the Sketchy lot trait on City Living penthouses, the NPCs summoned tend to get distracted by stuff outside and have trouble making it upstairs.
When using the Sketchy lot trait in downtown Strangerville, there are a lot of different roles and walkbys already in Strangerville and any summoned NPCs tend to get lost in the crowd.
Languages
English
Spanish (thanks, HareShake!)
French (thanks, Candyman!)
Russian (thanks, Origamika!)
Conflicts and Requirements
These files require the Basemental Drugs mod in order to function properly. After that, Sketchy requires only The Sims 4 base game, Special Deliveries requires the Get Famous expansion pack.
Sketchy uses custom tunings and should not cause any conflicts.
Special Deliveries modifies the following XML tuning: 0C772E27!0000001B!000000000002F82A.loot_Fame_Perk_CelebuSerum_HasPerk
Special Thanks
Basemental for creating the fantastic Basemental Drugs mod
Zerbu for creating the Mod Constructor V4
The Sims 4 Studio team for making Sims 4 Studio
and the Deaderpool Discord creator community for their continuous help and support throughout the whole modding process
Install instructions
Unzip the winrar archive. Add as many package files as you like to your Sims 4 mod folder or a subfolder.
Download
Download
[Kuttoe] BasementalAddons.rar
40 kB
Comments
Log in with itch.io to leave a comment.
thanks for the update I shall download it tomorrow morning 😊
Hello! I traslate this mod to latin spanish, it´s just strings in spanish, the mod must be downloaded for the translation to work.
Cannot download, keep getting error that it is "unknown or damaged"
It's working fine from my end, but download errors like that are usually browser based. Have you tried hard refreshing the page or using a different browser?
this mod sounds awesome will you be adding anything else to it in the near future? 😊
Depends on what Basemental adds to the main mod, and what kind of ideas I get along with what my coding ability enables me to make. Glad you like what I've put up so far! :)