Basemental Addons
Last updated August 26th, 2022
Working for The Sims 4 v1.90 / High School Years Patch
Update 8/26/22
Added Polish translation by Astercholik
Update 7/27/22
Updated for compatibility with the new patch
Fixed an issue with the title on Drunk NPCs for players not using English
Update 6/16/22
Updated for compatibility with the new patch
Update 6/5/22
Beer and wine is now available on lots with the Simple Living lot challenge active
Update 5/17/22
Added Dutch translation by GothiqueAngel
Update 3/29/22
Fixed a bug that would cause an exception for users who didn't install the Sketchy lot trait
Update 3/25/22
Rewrote the NPC summoning code for the Sketchy lot trait. Drug dealers should now show up more consistently and drunks should show up less consistently.
Other Sims will now approach drug dealers and purchase items from them.
Drunks now have a chance to stumble and vomit as they pass through the lot.
Drunks have a much higher chance of showing up on Thursday, Friday, and Saturday.

A mod for another mod! Mod-ception! I'm a big fan of Basemental's work and wanted to make my own addition to it. These little extras allow you to interact with the main Drugs mod in new ways.
Sketchy Lot Trait
Want to add some "extra flavor" to the run-down bar in your game or the lots next to it? Want an easy way to find drug dealers without relying on random chance or cheesing it with CAS? Just want Sims doing the goofy walkstyle fumbling around your lot? Then the Sketchy lot trait is perfect for you!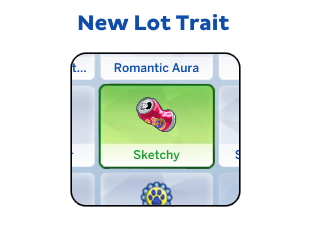 Add the Sketchy lot trait to any lot, residential or commercial. Drug dealers and drunk Sims will start showing up in the evening and will continue throughout the night into the wee hours of the morning. Drug dealers will act like normal patrons on commercial lots, and will hang around local parks near residential lots. Existing drug dealers will be summoned first, but if they are unavailable or if one does not exist, the game will generate some for you. On commercial lots, drunks will bumble around trying to buy more booze or coffee. On residential lots, most drunks will walk by like normal pedestrians but some may choose to loiter.
"Special Deliveries" Celebrity Perk
(Requires Get Famous)
Based on a suggestion from zapcracklepop, this mod turns the Celebuserum celebrity perk into "Special Deliveries" which can mail random pills, powders, and goodie bags to your Sims. Within a day of picking up the perk, a drug dealer will reach out to your Sim (teen or older only) by phone and offer to toggle the perk to deliver drugs instead of Celebuserums. You can also talk to any drug dealer NPC to toggle it or use an option on your phone at any time. It costs §1000 to start the service, and you may be asked to pay upkeep of §300 every week or so. You can toggle the service off at any time and return to Celebuserums for free.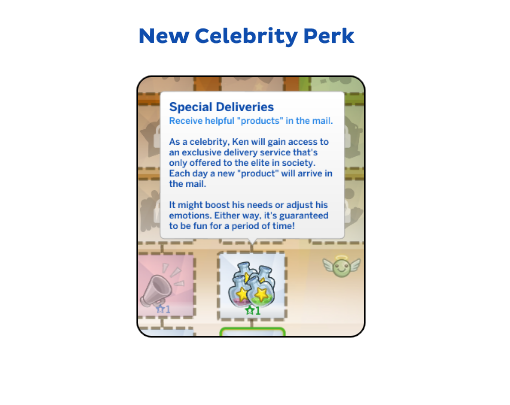 Beer Available In Fridges/Coolers/Trays
Is your Sim looking for a quick drink without going to the lounge, but doesn't own a full bar counter? Fret no longer! This mod adds cans of beer straight to your fridge's Quick Meal menu for easy and instant access to booze. This is completely compatible with Srsly's Complete Cooking Overhaul mod.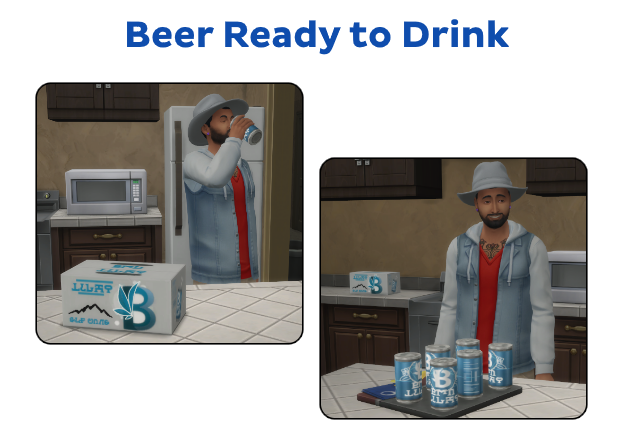 With the Outdoor Retreat game pack, beer is also added to coolers.
With Dine Out, glasses of cheap wine will also be added.
With Eco Lifestyle, the twelve pack box of beer will also be added to fridges.
For users of LittleMsSam's Improved Spa Day Tablet mod, cans of beer will be added to the Liquor menu of that mod. If Discover University is installed, the different beers from the keg will also be added to the menu.
"Inebriate" Magic Spell
(Requires Realm of Magic and r3m's Spellbook Injector)
This mod adds the "Inebriate" spell to the Mischief school of magic. Spellcasters can use this spell on themselves or other Sims to immediately have them feel the effects of a full drink. If the Spellcaster is in a charged state, the effect is roughly doubled. Effects will stack if you cast this spell on the same Sim multiple times. Cast responsibly!
This mod requires the Spellbook Injector mod by r3m in order to show up in game.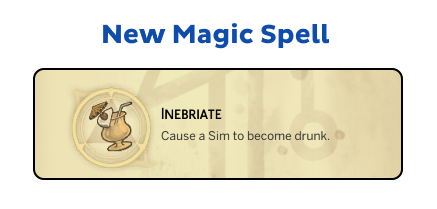 "Assign as NPC Dealer" Debug Interaction
Have you ever seen a Sim hanging out downtown that you just feel should be a dealer? Have you ever wanted to assign a particular Sim, but didn't want to scroll through the list to find their name? Now any Sim you can see on the lot can be turned into an NPC Dealer with just a click.
While Debug Cheats are enabled, shift-clicking any valid Sim now gives you the option to make them into a Dealer instantly. The same rules for who is a valid target still apply, so it only works on Sims who are old enough, are unplayed, are not gang members or straight edge, etc. You'll be notified by a message when it goes through successfully. Dealers can still be assigned and removed through the normal methods.

Known Issues
When using the Sketchy lot trait on City Living penthouses, the NPCs summoned tend to get distracted by stuff outside and have trouble making it upstairs.
When using the Sketchy lot trait in downtown Strangerville, there are a lot of different roles and walkbys already in Strangerville and any summoned NPCs tend to get lost in the crowd.
Languages
English
Spanish (thank you, HareShake!)
French (thank you, Candyman!)
Russian (thank you, Origamika!)
Portuguese (thank you, melqui1!)
Italian (thank you, ISY!)
German (thank you, NeedCoffee4That!)
Czech (thank you, Clairine, Xeria, and Ayla!)
Traditional Chinese (thank you, Weili!)
Simplified Chinese (thank you, Weili!)
Dutch (thank you, GothiqueAngel!)
Polish (thank you, Astercholik!)
New translations are always welcome!

Conflicts and Requirements
These files require the Basemental Drugs mod in order to function properly.
Sketchy Lot Trait only requires the base game.
Special Deliveries requires the Get Famous expansion pack.
Beer in Fridges only requires the base game, but more packs give it more features.
Inebriate Spell requires the Realm of Magic game pack.
Assign NPC Dealer only requires the base game.
Special Deliveries modifies the following XML tuning: 0C772E27!0000001B!000000000002F82A.loot_Fame_Perk_CelebuSerum_HasPerk
Special Thanks
Basemental for creating the fantastic Basemental Drugs mod
Zerbu for creating the Mod Constructor V4
The Sims 4 Studio team for making Sims 4 Studio
Alphabetsmells/LeRoiDeTout for his help on the script portion of this mod
and the greater The Sims 4 creator community for their continuous help and support throughout the whole modding process
Discord Server
For bug reports, live troubleshooting, discussion of my mods, and general chit-chat, please join us on the Sims After Dark Discord server. It is a joint mod support server for LeRoiDeTout, Shinobu Nox, NC4T/Keke, and myself.
Supporting My Mods
This mod and all of my others are free to download and will remain so. If you'd like to support their continued development, you can donate to my Patreon. I occasionally post progress updates and exclusive access to beta versions of my newer mods.
Install instructions
Unzip the zip archive. Add as many package files as you like to your Sims 4 mod folder or a subfolder. Add the ts4script file to your mod folder or a subfolder which is only one folder deep. For organization, it is usually better to keep the files together, but not strictly required.
Download
Download
[Kuttoe] BasementalAddons.zip
298 kB